German company sells 'liquid wood'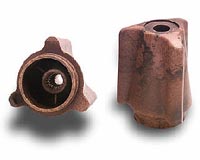 Several products made of Arboform have been revealed, including baby toys, furniture, castings for watches, designer loudspeakers (Arboform has wood-like acoustic qualities), golf tees that degrade on the course and even coffins.
"How about a renewable plastic that has wood-like qualities but can be cast by a machine? A group of scientists at the Fraunhofer Institute for Chemical Technology in Pfinztal near Karlsruhe invented just that in the late 1990s."